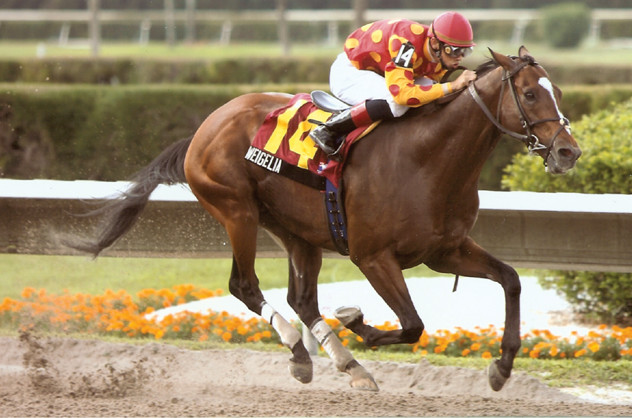 Racing
Our experienced staff is dedicated to preparing young thoroughbreds- both physically and mentally- for the demands of racing and competition.
We are particularly proud of a few of our own achievements:
#2 LEADING PENNSYLVANIA SIRE IN 2018
His first six outstanding crops have produced 88% runners, 73% winners, average earnings per runner over $86,600, and 11% Stakes horses, including SW STORM ADVISORY ($444,652), 23⁄4-length winner of Oaklawn's $125,000 King Cotton S., etc.; SW FAT KAT ($423,318), winner of Parx' $100,000 Power By Far S., etc.; SW BRENDA'S WAY ($350,752), 101⁄4-length winner of Pimlico's $75,000 Geisha S., etc.; 2YO SW CHIPPEWAWHITECHIEF ($292,405); 2018 NEW SW SMOOTH B ($306,498); 2YO SW BARRACUDA WAYNE ($276,635); etc.
Pennsylvania's #2 Juvenile Sire of 2018 with 20% Stakes Horses, incl. $100,000SW DELTA EXPRESS ($110,840) and $100,000 Stakes-placed Amandasromeo.
WEIGELIA has 20% $100,000+ earners, incl. $300,000 Grade 2 Demoiselle S.-pl Disco Rose ($449,280), and 2018 SPW Pink Princess ($561,351), etc.
GRADE 1 PERFORMER • MILLIONAIRE • 109 BEYER
2020 FEE: PRIVATE Email to request stallion season.
---
Kattegat's Pride, out of Pilgrim's Pride, won 10 stakes and was a graded stakes winner. Winning 19 times from 54 starts and earning $511,812 in her career. Kattebuck, the only filly of Kattegate's Prides four foal offspring, produced five winners.
One of the five winners, Silmaril, a Bowie-based mare, won stakes at five different distances, becoming the 17th Maryland-bred millionaire. She retires in top form, with 16 victories in 36 starts and earnings of $1,032,973, and 16th on the all-time Maryland-bred list. She won two graded stakes races in her career, including her crowning achievement, a victory over two-time champion Ashado in the 2005 Pimlico Distaff.
Silmaril's most accomplished sibling is Royal's Quest, a half brother by Norquestor. Royal's Quest won five races from 39 starts, winning on the flat and over jumps at distances ranging from six furlongs to 3 1/2 miles. Silmaril has a 2-year-old full sister, Another Jewel, currently in training and a yearling half-brother by Not For Love.
Lexi Star, another stakes winner currently racing, also traces back to Pilgrim's Pride. Lexi Star has won seven times in her 14 career starts and picked up her third stakes victory in her past four outings.
Inquiries to Chip or Barbara Wheeler, WynOaks Farm, 153 West McKinley Road, Delta, PA 17314. Phone (717) 456-5666.
Cell (410) 459-1840. Fax (410) 417-2571. E-mail: admin@wynoaksfarm.com Web Site: www.wynoaksfarm.com