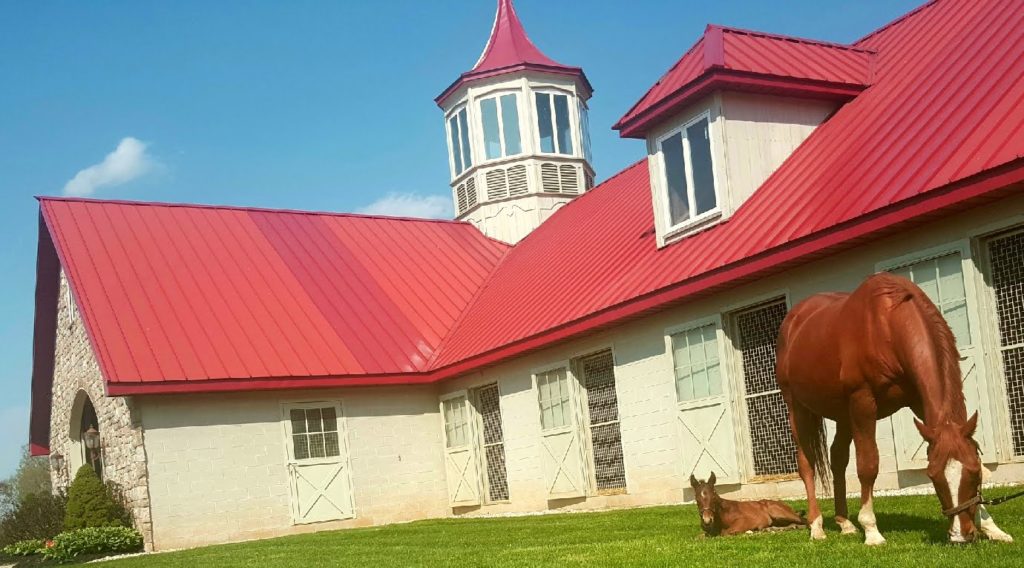 Boarding
Our management team has a combined experience of over 65 years, and our new facility, combined with the dedication and ability of our staff, creates an environment ideal for your broodmare's well-being.
WynOaks Farm Broodmare management includes intensive care which begins with early cycling under lights with open mares during the long winter nights. At WynOaks Farm, we request that foaling mares arrive at least 30 days prior to foaling for observation and preparation. Mares are stalled nightly and turned out daily in small paddocks for at least 6 – 8 hours. They are fed grain twice daily and given free choice quality alfalfa hay. A full time Broodmare Manager is on hand to take care of feeding, grooming, foaling, minor medical care and good record keeping.
Successful foaling requires diligence and proper planning. We accept a limited number of mares for foaling. By keeping the mares in residence to a limited number, it ensures individual, hands on care. We specialize in offering full mare care and foaling for participation in the Pennsylvania Breeding Fund Program. WynOaks Farm features modern foaling stalls equipped with cameras monitored around the clock by experience and qualified foaling attendants. WynOaks follows a strict foaling protocol and conducts a check list including date of last vaccinations, wax monitoring, and colostrum loss, time of foaling, placental expulsion and details of the foal.
As the mare nears her foaling date, she is moved into the Foaling Barn where she will be monitored 24 hours a day. The condition of the mare is observed and noted accordingly by the foaling manager. In addition, each of the foaling stalls is covered by CCTV system that allows the attendant to watch all foaling stalls on color monitors. Each camera is equipped with infrared coverage so that monitoring can continue when a stall is dark.
At the first sign of labor, the foaling team is in the stall, assisting the mare until the foal is born, cleaned, treated, standing and nursing and able to be on its own with its mother. Continuous monitoring of the mare and foal is following until all foreseen complications have passed.
Additionally, proper ventilation is top priority; promoting a clean, comfortable environment for mare and foal. Dedicated pasture paddocks provide optimal recuperation for the mare and a stress free friendly environment for the foal. During the foaling season veterinarian services are provided daily and are on 24 hour call for possible foaling emergencies. WynOaks Farm also provides an on-site colostrum bank.
Imprinting
The foal is placed in front of the mare and the imprinting starts. The mare immediately starts to love and bond with the foal. The staff rubs down the foal with clean towels; warming them up and promoting good circulation. Staff stays with the mare and foal, helping the foal to stand and encouraging them to nurse. The foal is handled throughout this process.
In the days and weeks to follow, the foal is introduced to the halter and lead rope regularly. The mare and foal lead in and out daily to an individual paddock until of age when they are turned out with other mares and foals of similar age and size.
WynOaks Farm provides boarding for broodmares, foals, weanling, yearling, sales oriented and racing layup for clients. All horses are cared for by our professional staff and given the highest quality of care specific to the need. Please contact us if you are interested in boarding with us.
WynOaks Farm offers Pennsylvania a new state-of-the-art facility, including a 28 stall Broodmare Foaling Barn equipped with 24 hour monitored camera system, extra large foaling stalls, multiple large (32'X64') run-in sheds, and both large and small pastures and individual paddocks and round pens to fit any and all needs of care. The modern facilities and safe paddocks and pastures of WynOaks Farm are ideal in the operation of our successful thoroughbred nursery specializing in raising racehorses.

Careful consideration has been given to the lay out and construction of the entire facility optimizing not only the farm's natural beauty, but also to give consideration to the safety and well-being of the horses. Additionally we consult with local experts to help us effectively manage the land and to determine the composition of the soil and native grasses in order to optimize the nutritional value of the pastures.


Young Stock
* We have limited openings for this service, but will take outside horses if space is available
Weanlings are divided into compatible groups and allowed to grow up in a herd pasture environment with safe fencing. Still coming into barn stalls regularly out of the strong sunshine or inclement weather.  Turnout is equipped with large run-in sheds bedded with straw. They continue to receive routine health care and farrier work. This living arrangement is continued through the yearling and two-year-old years. In the summer of their yearling-year sales prep begins and as two-year olds training can begins with light groundwork and starting under saddle.